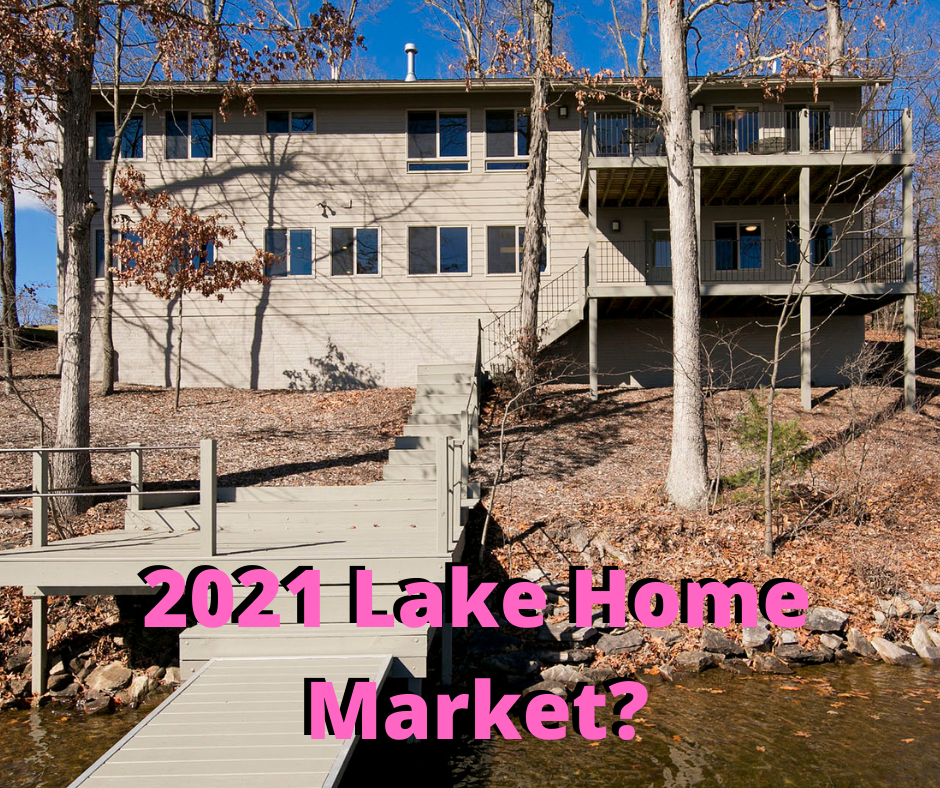 It was a whirlwind 2020 real estate season and 2021 looks like it will be another wild ride, so let's talk about what happened, why it happened, and what we think this season will look like!
The last two years have seen lower inventory in our region than normal, and once Covid hit that seemed to make things a bit worse as many sellers decided to stay put, while buyers started looking for homes that would give them the amenities they wanted without going anywhere. That means lake homes were in high demand but inventory couldn't keep up! We quickly saw multiple offers pickup, especially on waterfront homes, with sales prices ending up to 125% of the list price.
Deals can still be found in the smaller lake communities like Lake Caroline, Lake Land'Or and Lake Louisa, but with the median days on market hovering under two weeks you definitely need to be prepared to make an offer when a waterfront home hits the market.
Lake Home Sales 2020
| Virginia Lake | Total Homes Sold | Avg DOM | Waterfront Homes Sold | Median DOM | Waterfront Price Range | % of List Price |
| --- | --- | --- | --- | --- | --- | --- |
| Fawn Lake | 84 | 58 | 11 | 10 | 459,000-2,325,000 | 97.1-101.2 |
| Lake Anna | 306 | 84 | 155 | 33 | 235,000-2,270,000 | 98.4-123.1 |
| Lake Caroline | 101 | 47 | 20 | 14 | 195,000-480,000 | 98.9-105.7 |
| Lake Holiday | 78 | 38 | 5 | 17 | 360,000-685,000 | 96.2-100.5 |
| Lake Land'Or | 127 | 35 | 22 | 20 | 155,000-415,000 | 99.9-109.9 |
| Lake Louisa | 31 | 53 | 6 | 40 | 300,000-395,000 | 100.0-114.1 |
| Lake of the Woods | 315 | 37 | 40 | 13 | 270,000-1,200,000 | 99.3-125 |
Now that we've taken a look at last year, what can we expect in 2021? Low inventory appears to still be the overriding factor as we head into the spring market. As buyers get more serious and reach out during the expected high season offers will get even tighter and options will disappear quickly.
As a seller this is a great time to take advantage of the strong sellers market to trade up, downsize, or move to a different area that has more market inventory while taking advantage of your equity and low interest rates. Our team can help you maximize your sales price through staging and marketing to ensure you capture as much value as possible.
If you are a buyer preparing for spring, the following will help you not only find, but WIN, when offering on a waterfront lake home:
Agent on Board
Make sure you have your selected agent lined up to let you know what is coming on the market. We are seeing a much higher usage of "Coming Soon" listings which are only available to agents, as well as off market sales. If you are relying on websites you may miss up to half of the properties that are available. We'd be happy to help you if you aren't working with an agent yet as we specialize in lake homes.
Financing in Place
As with any real estate market you need to have your financing in place before you start looking, but this is doubly important now. Cash is obviously the best position to be in, but if you are financing we can determine what will help your offer whether that is getting you through underwriting before offering so we can offer the quickest closing time, or seeing if the lender will waive appraisal based on your credit worthiness.
Clean Offer
While it's never an agents position that you should wave all contingencies, forgoing inspections, and such, in a multiple offer situation these may be the key to winning. If we are prepared beforehand we can help mitigate these issues by potentially having an inspector tour with us, discussing potential appraisal issues and what you are comfortable with, or even looking for off market properties so we aren't competing against other buyers.
Home Sale Contingencies
The biggest issue in competing on multiple offers is definitely a home sale contingency. If you need to sell your current home in order to buy we need to discuss options as it's very unlikely your offer will be accepted if we are up against other offers with no contingencies. Getting your home under contract first with a home of choice contingency is an option that may help, or selling and moving into short term housing.
If you are in the market to buy or sell a lake home in 2021 the big take away is be prepared in advance! Reach out now so we can get everything lined up so we can make your lake home dreams come true.