Fawn Lake is a unique gated lake community as many of the amenities are not only open to Fawn Lake home and lot property owners, but the general community as well if they are members of the country club. There are essentially two clubhouse buildings, one that is run by the Fawn Lake Home Owners Association, and then the Fawn Lake Country Club which is membership based. So let's talk about the differences and what is included in each!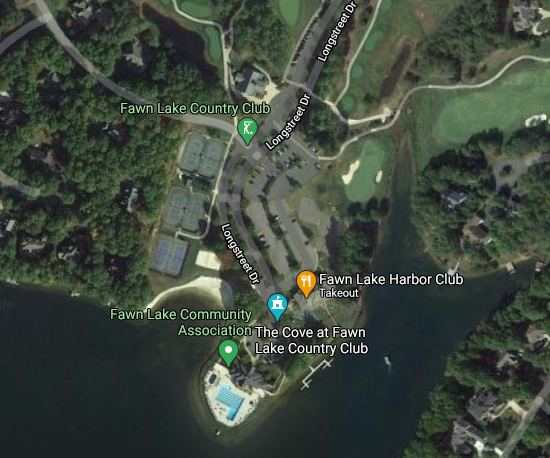 Fawn Lake HOA – Like most HOA's when you buy a home in Fawn Lake you become a member of the HOA and pay monthly dues that cover maintenance and upkeep of the amenities you can use as a home or property owner. In Fawn Lake this includes the clubhouse overlooking the pool and beach area, sports courts, dog park, marina, neighborhood parks and more.
Fawn Lake Country Club – The official country club has another clubhouse, essentially right across the street from the HOA clubhouse that is for members only, but home owners have a few privileges as well. The Country Club memberships can include golf, tennis, and social amenities. You do not have to own a home in Fawn Lake in order to join the Country Club.
Home owners have a few privileges at the Country Club each year as long as they are in good standing with the HOA, ie up to date on their HOA dues. Fawn Lake residents may use the golf and tennis facilities once each quarter for up to 4 people by paying the standard guest fees. They can also use the Fawn Lake Harbor Club to dine once a quarter for their entire household and guests. If someone owns multiple homes or lots this applies to each property they own. If you own a home that you rent out, only the owner OR the renter can use these privileges, not both.
You are not required to be a member of the country club if you buy a home in Fawn Lake. Many people enjoy being nearby a professional golf course as it relates to property values, but don't desire to play golf. On the other hand, you may not want to live in a gated community but want to be a member of a golf course!